BMW driver 'foolishly' drove at and hit moped rider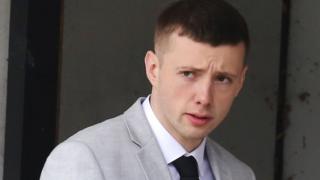 A BMW driver accused of trying to kill a moped rider by driving at him has told a court it was a "split-second, foolish thing to do".
Jamie Clarke was thrown from his motor scooter in the crash with a BMW on North Approach Road, Watford in August.
John Boyle-Matcham, 23, of St Albans Road, Watford, denies attempted murder and an alternative charge of causing grievous bodily harm with intent.
He told St Albans Crown Court he "never intended to hit" Mr Clarke.
Mr Boyle-Matchem added: "It's probably the worst mistake I have ever made in my life and I'm just sorry."
The court has previously been told the defendant deliberately drove his father's black BMW into Mr Clarke's silver and grey vehicle.
Prosecutors said it followed an earlier encounter between the two at traffic lights at the junction of St Albans Road and Garston Lane.
Mr Boyle-Matchem told the court: "I wanted to scare him. It was a split-second, foolish thing to do maybe with the intent to make him fall off at worst or slam his brakes on, but I never intended to hit him."
Mr Clarke, from Watford, had previously told the court there was "bad feeling" between the pair "over a girl from many years ago".
Mr Boyle-Matchem denied there was a "feud" and said that evening he was on his way to some nearby shops in the hope of seeing Mr Clarke and make sure there was no ill-feeling.
The court had previously been told Mr Clarke, who had such bad leg injuries that a witness thought they had been severed, needed "multiple bouts of surgery and... two weeks of intensive care".
The jury has been told he has admitted the lesser charge of causing grievous bodily harm.
The trial continues.