Luton fast food owner kept drugs in 'takeaway bag'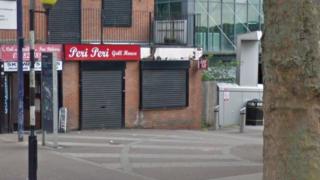 A takeaway grill's owner has been found guilty of possessing "£1.5m worth" of cocaine, which police found on the premises.
Drugs were discovered in holdalls and a brown takeaway bag, police said.
Shahraz Khan was arrested in October after leaving the Peri Peri Grill House on Midland Road in Luton.
Khan, 37, from Sherwood Road in the town, is awaiting sentence after being found guilty of possession of cocaine with intent to supply.
A spokeswoman for the police's Eastern Region Special Operations Unit said: "A total of 15 kg [33lb] of cocaine was recovered from the shop, with 13 kg [29lb] stashed in a holdall in the kitchen and the other two hidden in a brown takeaway bag.
"The drugs have been valued at £1.5m".
Khan was remanded in custody at Luton Crown Court ahead of sentencing on 18 May.