Three-week black bin collection in Bedfordshire on hold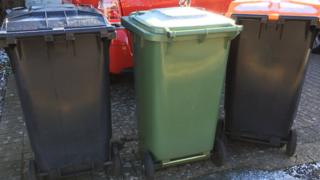 Plans to introduce a three-weekly collection of non-recyclable black bin waste have been put on hold after "concerns" from householders.
Central Bedfordshire Council consulted residents on the possible changes, which aimed to save £2m and boost recycling, it said.
It has also scrapped the idea to charge £40 per household for an all-year-round fortnightly collection of garden waste.
Separate glass and weekly food waste collections could also be introduced.
Conservative councillor Budge Wells, deputy executive member for community services, said food waste and glass collections will be introduced "as soon as we can when the new contract is in place towards the end of next year".
He said: "Charging for garden waste collection was the least popular option, so we are not introducing this.
"In terms of three-weekly black bin collections, we know that residents had some concerns about how they would manage."
He said they are still aiming to move to a three-weekly collection, but want to help residents "recycle as much as possible" first.
Once the amount of "residual" non-recyclable waste has decreased, the council would introduce the less frequent collection.
For now, the collection of non-recyclable waste, which goes in black bins, will remain fortnightly.
Garden waste, which goes in green bins or green boxes depending on where you live, will also remain fortnightly, with no extra charge.
"Dry" recycling, which goes in a black bin with a green or orange lid depending on where you live, will remain free and fortnightly.
A weekly food waste collection could be approved for the south of the district, while glass collection across the whole district could be approved for introduction at a later date.
There were more than 15,000 responses to the council's consultation, which ran for two months earlier this year.
Central Bedfordshire Council's executive committee will meet discuss the future of kerbside collections on 10 May.