Raymond Bowen burned Kirsten Ashby in Bletchley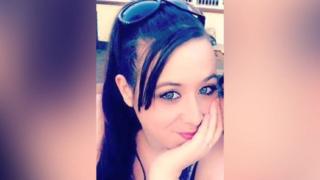 Relatives of a woman who was set on fire by her neighbour have spoken about the impact of the "horrific" attack.
Raymond Bowen, 24, was jailed for 19 years for dousing Kirsten Ashby in petrol and throwing a lighter at her in his flat in Bletchley, Milton Keynes.
The 27-year-old received burns to 32% of her body and is still in hospital following the attack on 17 November.
Kirsten's sister said the image of her "charred" sibling will "haunt her forever".
Ms Ashby's eldest sister, Donna Fuller, said she woke up to several missed calls from both Kirsten and her partner in the early hours.
She managed to speak to Kirsten over the phone after the attack who begged her to come to the flat where she had been set on fire.
"When I got there, it was just carnage - police, fire engines and ambulances everywhere," Mrs Fuller said.
"The paramedics brought her out and she was screaming and crying in pain.
"She was charred. A lot of her hair had been burnt away. That image will haunt me forever."
The family say there was "no clear motive" for why Bowen carried out the attack, but the father-of-five had drunk a bottle of Jack Daniels and taken cocaine beforehand.
The trial heard Kirsten had befriended Bowen's partner and repeatedly visited their flat in Somerset Close during the evening, causing him to become increasingly angry.
Kirsten told police from her hospital bed that Bowen watched her burn: "He was just stood there... smoking a fag; watching me, all smug."
'Road to recovery'
The family are now raising money to pay for equipment which Kirsten will need when she is released from hospital.
Katie Ashby said it will be "a long road to recovery" for her younger sister, but the family have praised her "strength and determination".
Kirsten is currently in rehabilitation at Stoke Mandeville Hospital in Buckinghamshire after being treated by the burns unit at Chelsea and Westminster Hospital.