£13m Bedford brewery plans for Charles Wells approved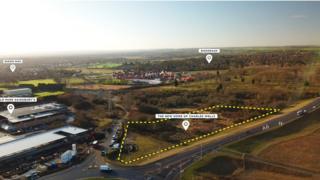 A new £13m brewery is to be built by the pub company Charles Wells after plans were approved by a council.
The Bedford business has been looking for a new permanent base since it sold its former home The Eagle Brewery to Marston's in May 2017.
The 30,000 hectolitre brewery will be built on land at Fairhill, off the A6 by the Western Bypass.
Construction work is set to start in August and the brewery should be operational by summer 2019.
The site will include a visitor centre for brewery tours, an on-site pub and a venue for music and events.
The location was chosen because of its "access to major roads in and out of Bedford" and it is above a well the company first made beer from in 1902, the firm said.
Commercial director Peter Wells, said: "Charles Wells has been part of the community in Bedford for the last 140 years, and this new complex will not only provide our 60 employees with a new home, but also be a focal point for surrounding businesses and residents to enjoy.
"As well as producing our heritage beers, this new brewery will allow us to meet the changing tastes of the nation's beer drinkers, by developing a new range of beers in a smaller, more artisanal brewing environment than our previous facility," he said.
Charles Wells currently runs more than 200 pubs across England and France.
The application was approved by Bedford Borough Council's planning committee.