Teacher banned for watching porn at Roman Fields School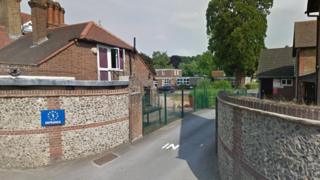 A teacher who watched porn while pupils were in the classroom has been struck off.
Julian Barrett, 53, was caught on CCTV viewing "explicit sexual footage" at Roman Fields School in Hemel Hempstead.
On one occasion, a disciplinary panel heard, a video of a couple having sex was on his screen when a pupil approached his desk.
He was banned from teaching indefinitely after admitting his actions were sexually motivated.
Mr Barrett worked at the school, which provides education for young people who have had "limited engagement with education", from September 2014 until July 2017.
'Calculated, motivated, repeated'
Between 9 and 15 December 2016 he watched pornography "on a regular basis", the National College for Teaching and Leadership panel was told.
The panel said pupils were present in the classroom on a "number of occasions" while he viewed explicit videos, and found his actions to be "calculated, motivated and repeated".
While he had "expressed regret", the panel said, there was "no evidence of insight".
It said it was "satisfied that the conduct of Mr Barrett amounts to misconduct of a serious nature which fell significantly short of the standards expected of the profession".
The professional conduct panel found him guilty of unacceptable professional conduct and bringing the profession into disrepute.
Mr Barrett has been prohibited from teaching indefinitely and cannot teach in any school, sixth form college, relevant youth accommodation or children's home in England.
The panel also decided that because of the "seriousness of the allegations", Mr Barrett is not entitled to apply for his eligibility to teach to be restored.