Concern over some Hertfordshire NHS trust facilities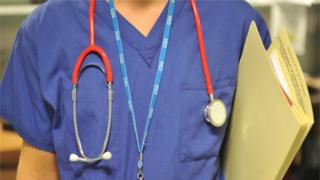 The safety of some wards overseen by an NHS trust providing care for mental health patients "requires improvement", the health watchdog found.
A Care Quality Commission report on the Hertfordshire Partnership University NHS Trust found some ligature points and blind spots in wards.
Two seclusion rooms did not meet the Mental Health Act code of practice.
The trust received a rating of "good" overall and said it was "taking action" over the concerns.
A spokesman said it was "delighted" to receive its good rating, which provided evidence that its services were "safe, effective, caring, responsive and well-led".
'Taking action'
He added that there were areas that "require improvement", including baseline staffing levels and some environment safety concerns" but they were "issues of which the trust is already aware and taking action".
The university trust provides health and social care for more than 400,000 people across Hertfordshire, Buckinghamshire, Norfolk and North Essex, including mental health services for adults of working age, older adults and children and young people.
Acute wards for working age adults and psychiatric intensive care units are in six wards across three sites including at the Lister Hospital in Stevenage, Kingsley Green in Radlett and Albany Lodge St Albans, and were rated as "requires improvement" overall.
Understanding of safeguarding
During an inspection visit earlier this year, inspectors found ligature points on three wards and blind spots on two wards that managers had not identified, a seclusion room was not free of hazards and staff did not follow seclusion practices as required.
However, all ward areas were clean and well-maintained and staff demonstrated good understanding of safeguarding and reporting and recording incidents.
At the Forest House child and adolescent mental health ward in Hertfordshire, the overall rating was "good" but safety "requires improvement" as inspectors found that managers "had not identified all ligature risks" and as such there were "no plans in place to reduce or mitigate the risk" to the patients.
Other issues included low staffing which impacted on the frequency of key worker one to one sessions and that some observations did not maintain the privacy and the dignity of patients.
Wards for people with a learning disability or autism and forensic inpatient or secure wards were rated as "outstanding".