Canada air crash was a 'tragedy of huge proportions'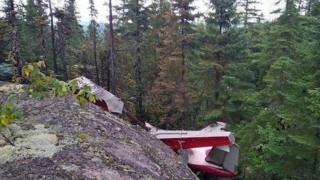 A family from Milton Keynes died in a plane crash in Canada after the aircraft stalled during a steep turn, an inquest has heard.
Fiona and Richard Hewitt, aged 52 and 50, and their children Felicity, 17, and Harry, 14, died at Les Bergeronnes, Quebec, in August 2015.
Coroner Tom Osborne told the hearing in Milton Keynes it was a "tragedy of huge proportions".
He concluded the family of four died as a result of an "air accident".
The pilot of the aircraft, Romain Desrosiers, and French passenger Emilie Delaitre also died in the crash.
A report in February by the Transport Safety Board (TSB) of Canada said Mr Desrosiers probably made the turn to give the family "a better view of wildlife".
It found that as he made the turn, the aircraft "stalled, descended vertically and struck the ground", before catching fire.
The aircraft, a De Havilland DHC-2 Beaver, had no stall-warning system and the TSB has recommended similar planes be equipped with the system.
Its recommendation was echoed by Mr Osborne, who told the inquest he would liaise with authorities in Canada.
'Impending stall'
The inquest heard the aircraft had taken off on a 20-minute sightseeing flight at 11:04 local time on 23 August 2015.
At 11:27 the aircraft stalled in a steep turn, descended vertically and struck a rocky outcrop, killing everyone on impact, the TSB report confirmed.
Investigators found weather conditions on the day were "favourable with calm winds and a clear sky".
Mr Osborne told the inquest in Milton Keynes that despite the pilot's experience, he did not notice the "impending stall" and lost control.
"The plane was not equipped with a warning system," he said.
"This deprived the pilot of the last line of defence against loss of control of the aircraft."
He told relatives: "This was a tragedy of huge proportions, the effects of which will be with your family forever and a day."
Outside the inquest, Mrs Hewitt's sisters Lynn Ross and Lorna Bremner told the BBC they had been left "devastated" by the tragedy.