Gurpreet Kaur inquest: 'Five-second scream' before body found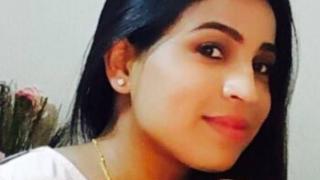 A five-second scream was heard by neighbours of a 30-year-old woman minutes before her burnt body was found, an inquest has heard.
Gurpreet Kaur was discovered by her aunt lying face down in the shed of their home in Gerrards Cross, Buckinghamshire, on 10 October 2016.
An inquest at Beaconsfield Coroner's Court was told a note was found on her phone stating she wanted to die.
Coroner Crispin Butler recorded a conclusion of suicide.
The inquest was told the route out to the garden through the garage had been locked from the outside.
Four neighbours each reported hearing a scream between 16:25 BST and 16:45, with one, Shirley Graver, saying it sounded like a "lady who was frightened".
Her body was later found by her aunt at 16:55 in the house on High Beeches.
Police had started a murder investigation, but no-one was charged.
Pathologist Dr Alexander Kolar said Ms Kaur's death was probably caused by burning but he could not be sure whether there was third-party involvement.
Burns expert Colin Rayner said he believed that Ms Kaur was alive at the time of the fire.
He said that it was unusual for her to have died from the extent of her burns in a short space of time, and he believed she had died because she had been face down, blocking her airways.
The inquest heard that Indian national Ms Kaur had lived in the UK since 2008 and on the day of her death was studying for an English exam to extend her stay.
'Complete shock'
Her aunt Baldev Kaur Matharu went shopping, leaving her and her uncle, Harcharanjit Singh Matharu, who was working in an office taking business calls with headphones on.
Mrs Matharu raised the alarm on her return when she saw smoke rising from near the shed in the back garden.
She said she and her husband found Ms Kaur "like she was sleeping" at 16:55 and that she was "in complete shock and numb" when Ms Kaur was declared dead.
A phone was found in the shed and on it was a lengthy note which included the statements of "wanting to die" and that she "can't survive".
Paramedic Luke Ratcliffe told the court in a statement Ms Kaur was dead on arrival and that near the body were the remains of a petrol can and a pink cigarette lighter in the undergrowth.
Mr Butler said Ms Kaur "died as a result of asphyxia caused by her position".