Luton shopkeeper fights off thieves with chilli powder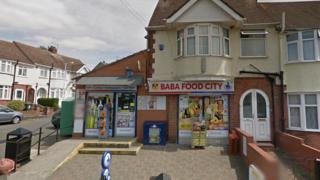 Three armed men who raided a convenience store were stopped when the shopkeeper took them on with a tub of chilli powder, police said.
The attempted robbery took place at about 22:00 BST on Saturday at Baba Food City in Runfold Avenue, Luton.
The thieves entered the shop with a knife and two handguns.
They left empty-handed when the powder, which was under a till, was thrown at them and they ran towards Icknield Recreation Ground.
Bedfordshire Police is appealing for information.
Two of the suspects were wearing black trousers and black hooded tops, and the other was wearing black trousers and a grey hooded top.
It is not known if any of the chilli powder hit them.