Lister Hospital 'failures' led to bile leak patient death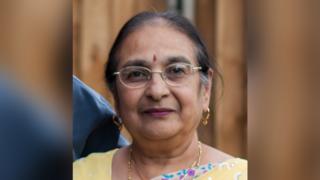 A woman who died after a "significant" bile leak, was neglected by a hospital following her gall bladder removal, an inquest concluded.
Taruna Soneji, 68, had the elective surgery at the Lister Hospital in Stevenage in December 2016.
Markers of her decline in health were not escalated to senior staff, the inquest heard. She later died despite surgery to remove a litre of bile.
Coroner Geoffrey Sullivan found there had been "gross failures" in her care.
At The Old Courthouse, Hatfield, Hertfordshire, Mr Sullivan said had her care been escalated properly it was "likely she would not have died".
Speaking after the hearing her son Bhavin said: "We understand the trust had undertaken some learning but I do not believe the accountability question has been fully resolved."
East and North Hertfordshire NHS Trust has apologised "for the failings in Mrs Soneji's care".
Mrs Soneji, from Letchworth Garden City, had surgery to remove her gall bladder on 8 December 2016, after experiencing abdominal pain, the inquest heard.
Consultant surgeon Sanjay Gupta said the surgery had been uncomplicated and she appeared normal the next morning but became "seriously unwell" at about 14:00 GMT.
The court was told senior staff did not respond to attempts to contact them and night staff were not alerted to her condition.
At 22:50, a junior doctor asked for advice from a senior colleague, Dr Georgios Vlachos.
He asked for blood tests but admitted "shortcomings in her care" by not checking the results, the inquest was told.
She was rushed into surgery to remove the bile, but died on 12 December.
Dr Vlachos is being investigated by the General Medical Council over Mrs Soneji's care.
Recording a narrative verdict, Mr Sullivan said Mrs Soneji died of a rare but recognised complication of an elective surgical procedure.
He added: "Her death was contributed to by neglect post-operation."
Director of nursing Rachael Corser said the trust had "reassured Mrs Soneji's family that robust changes have been put in place since then to help ensure any deterioration in a patient's condition is identified and treated rapidly".