Could new Stevenage store save Debenhams?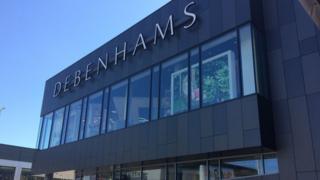 Debenhams is going through a tough time financially with profits down, but it hopes a new style of store will help it get back on track.
Chief executive Sergio Bucher said a new store in Stevenage, which has a Nando's, Costa and Patisserie Valerie, is being used as a "test-lab".
Mr Bucher said the sales at the shop's food outlets had exceeded expectations.
So could the Hertfordshire store be the key to success for Debenhams?
Billy Morgan, 20, who was shopping at the Stevenage branch today, said "thousands were outside waiting to get in" when the store opened in August.
He said it is the staff that make the difference, describing them as "welcoming and polite".
"The main thing is how kind and considerate the staff are. It makes a difference," said Mr Morgan, from Knebworth.
Denise Battung, 19, Tanya Yale, 19, Owen Greenstreet, 18, and Tania Parapally, 18, are all students at North Hertfordshire College and said they visit the store as a "treat".
"It's all the other shops - Nando's and Costa - you can get everything in one place. We come here to treat ourselves," Tanya said.
While Denise said it was the "make-up and high-end stuff" that attracts her to the Stevenage branch.
Philip Horsley travels 12 miles from his home in Hatfield to shop at Debenhams in Stevenage.
He described the store as "very nice, very new but not very busy" and said disabled access was good.
"It's the only place I can buy trousers," he said.