Terminally-ill Raymond Page jailed for killing partner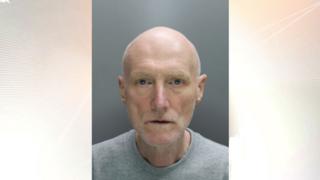 A man who "struggled to cope" with the pain of his terminal illness has been jailed for killing his partner.
Raymond Page, who has prostate cancer, carried out a "frenzied" knife attack on Natividad Nituan, 70, in July 2017, St Albans Crown Court heard.
The 64-year-old from Radlett had previously pleaded guilty to manslaughter on the grounds of diminished responsibility.
He was jailed for five years and has a life expectancy of two to five years.
Page and Ms Nituan had been in a relationship for 25 years.
The prosecution said the couple "loved each other very much and were very seldom seen or heard to argue" but, after being diagnosed with cancer in 2015, Page changed, he suffered depression and was in constant pain.
Just before 07:00 BST on 25 July, neighbours heard Ms Nituan scream out from the couple's home in Orchard Close.
He told police in a 999 call he had killed her.
The victim suffered multiple stab wounds and Page used considerable force as the weapon had ended up bent and the handle broken, the court heard.
Prosecutor Peter Shaw said Page told police he "hated himself" and had "done something evil to the sweetest person in my world".
Mental health experts concluded he had been suffering from a "depressive episode" that had a "significant effect on his behaviour and functioning," Mr Shaw said.
Judge Andrew Bright said: "You struggled to cope with the pain and weight loss from which you suffered and you began to develop symptoms of depression and anxiety."
He said Page killed his partner "because you believed quite wrongly that she was about to leave you and this made you angry".
"You then took a knife and embarked on what can only be described as a frenzied and sustained attack," he added.
After the case, Ms Nituan's family released a statement which said she was "a loss to the world".
"She was a happy person who would do anything for anyone no matter how big or small," it added.
"We cannot understand why he has done what he has done and we will never get over our loss."