Joanne Rand acid attack: Xeneral Webster pleads guilty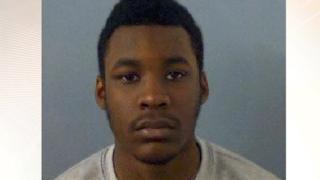 A man has pleaded guilty to manslaughter after a woman died 11 days after being splashed with acid.
Joanne Rand was sitting on a bench in Frogmoor, High Wycombe, after visiting her daughter's grave on 3 June.
Reading Crown Court heard Xeneral Webster, 19, was arguing with another man nearby when he took a bottle of acid from his bag.
It was knocked out of Webster's hand and splashed the nurse head-to-toe. She died in hospital 11 days later.
Webster, of Banstead Court, Westway, west London, admitted manslaughter during his murder trial, which was accepted by the prosecution.
He also pleaded guilty to affray and having an offensive weapon, namely a bottle containing high-strength sulphuric acid.
The trial heard Ms Rand screamed in pain and ran to nearby KFC restaurant to douse herself with water after being splashed with the acid.
She was treated in hospital and was discharged before being readmitted.
On 14 June she died from multi-organ failure after contracting septicaemia due to the acid burns.
Webster previously pleaded guilty to four other offences:
Having an offensive weapon, namely a bottle containing an ammonia solution, on 19 April
Having an offensive weapon, namely a samurai sword, on 12 June
Making a threat to kill on 12 June
Damaging property on 12 June
He is due to be sentenced at Reading Crown Court on 15 June.