Ex-Hertfordshire PC jailed for child sex offences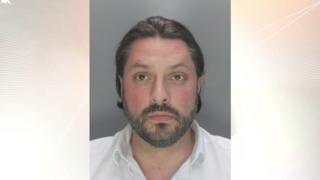 A former police officer has been jailed for six years for child sex offences.
Gary Wells-Burr, 36, was a police constable for Hertfordshire Constabulary between 2003 and 2016.
He pleaded guilty to three offences relating to the abuse of two girls between 2010 and 2014 at Chelmsford Crown Court on Friday.
The court heard one victim was subjected to prolonged abuse by the former officer between the ages of 12 and 16.
The second victim was abused by Wells-Burr when she was 15-years-old.
'Wickedness'
The court heard the former officer carried out the sexual abuse "on a weekly basis" at times.
Judge David Turner QC told Wells-Burr in court: "You targeted two relatively young children and the abuse was repeated and sustained.
"The wickedness of what you have done will have a lasting and damaging impact on both of them."
Judge Turner QC said the victim impact statements from the two girls were "painful reading".
The former officer was arrested while on duty in January 2015 after police received a report that he had sexually assaulted two young girls.
Wells-Burr, Of Needingworth, Cambridgeshire, was suspended from duty while an investigation was carried out.
He was subsequently dismissed from the force for gross misconduct in February 2016, after a drunk and disorderly conviction at Lancaster Magistrates' Court in July 2015.
Wells-Burr pleaded guilty to causing or inciting a child under 13 to engage in sexual activity, causing a person to engage in sexual activity without consent and sexual assault.
He pleaded not guilty to one count of sexual assault of a child under 13 and two counts of sexual assault, all of which have been ordered to lie on file, which means he was neither acquitted or convicted of the charges.
He was sentenced to six years in prison and will be placed on the sex offenders register indefinitely.