Luton man's hole fall death ruled accidental at inquest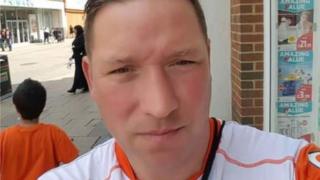 More could have been done to prevent a man falling to his death in a hole from which safety barriers had been removed, a coroner has said.
Matthew Wilmot, 40, fell into the 5ft (1.5m) hole in Luton in the early hours of 28 May after watching the FA Cup final and drinking at a number of pubs.
The excavation hole had been dug by contractors on behalf of Affinity Water but safety barriers had been removed.
The death was ruled accidental at an inquest at Ampthill Coroner's Court.
Acting senior coroner Ian Pears said: "I have great concerns about the location [of the hole], a single pathway with no alternative, more could have been done."
Mr Wilmot's partner Tania Banks said the family were "happy with the outcome of the inquest".
"We want to make sure people are aware of what happened so it does not happen again."
Mr Wilmot's neighbour Julia Fraser had routinely seen people move the barriers around the hole on Devon Road in order to get by, the inquest heard.
The jury of four men and five women were told Mr Wilmot had watched Arsenal beat Chelsea in the FA Cup final while drinking beer, Jagerbombs and shots at various pubs.
The inquest was told he took a taxi with a friend to the end of his road at about 00:35 BST.
A neighbour discovered father-of-two Mr Wilmot's body "upside down" in the hole at about 07:00.
Julia Horswell, from the East of England Ambulance Service, said she and a colleague arrived at the scene at 07:12 to find some barriers were leaning on a railing.
Luton and Dunstable University Hospital pathologist Stefano Crippa said the cause of death was "fatal hypoxia with significant intoxification".
An Affinity Water spokesman said: "Mr Wilmot's death was a sad and tragic accident and our thoughts are with his family and friends.
"We are committed to ensuring, and expect those working on our behalf to ensure, that the public are protected at all times by following national standards for the fencing and signage of utility works."