Fancott Miniature Railway: Pub attraction needs staff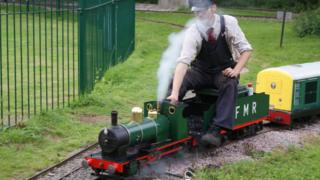 What is believed to be Britain's only active miniature railway at a pub could close unless more volunteers are found.
Each year 10,000 people ride on the railway at the Fancott Arms near Toddington in Bedfordshire.
But the group which runs it says many members are of "retirement age" and new people are needed.
"We're the last pub railway in the UK, but we don't need money, we just need people," said Ron Stanbridge from the Fancott Miniature Railway Society.
As well as running the railway, volunteers are needed to maintain the grounds and the trains themselves.
The railway track covers three quarters of a mile (1.2km) in an oval in the gardens of the pub and rides cost £2.
In 2015, a fire badly damaged an outbuilding at the pub, as well as a railway shed, locomotives and carriages used by the society.
"When we had the fire, everyone got behind us and helped us get back on our feet with new rolling stock," Mr Stanbridge said.
"I've been part of the society since February 2000. It would be a shame for it to go."