Milton Keynes A421: £28m road upgrade announced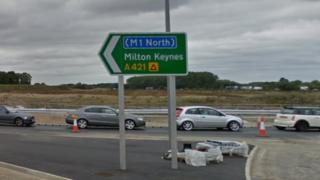 The transport secretary has announced £22.5m of government funding to improve the A421.
Chris Grayling said the money will be used to turn the stretch of road between Milton Keynes and junction 13 of the M1 into a dual carriageway.
Central Bedfordshire and Milton Keynes councils have also provided £4.6m for the project and another £1m has come from the South East Midlands Local Enterprise Partnership.
The work is due to start within weeks.
The Department for Transport said the road upgrade would "support the delivery of 2,900 new homes and up to 2,500 jobs".
'Opening up opportunities'
Currently, about 30,000 vehicles use the road every day, which is more than double its planned capacity, and it is hoped the additional carriageway would mean faster and safer journeys for motorists.
The work will consist of widening 3km (1.9 miles) of carriageway in Central Bedfordshire and Milton Keynes. This will link the M1 with the distribution site at Magna Park.
Mr Grayling said: "This important project will complete the dualling of the A421 between the M1 and Milton Keynes, improving journeys for residents and opening up opportunities for businesses, employment, housing and leisure activities."
The upgrade work is due to completed in autumn 2019.