Bedford barber shaves boy's head as 'punishment'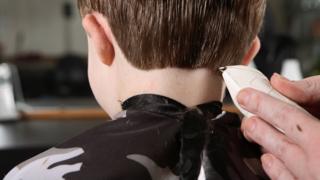 A barber shaved a 10-year-old boy's head as a form of "punishment and humiliation", a court heard.
Abdulrahim Omar, 21, from Bedford, was arrested after the boy called police to say an electric razor had been used to shave off his hair.
Luton Crown Court heard Omar had done it to teach the boy a lesson because he had been using a dangerous razor.
He pleaded guilty to assault occasioning actual bodily harm.
Prosecutor Martin Mulgrew told the court Omar had laughed at the boy.
When he was arrested on 18 December, he accepted what had happened, the court heard.
Mr Mulgrew said: "The aggravating factor in this unusual case is the age of the victim and the fact he was subject to punishment and humiliation."
Judge Richard Foster adjourned sentencing for a report, saying: "This crosses custody threshold. The only question is whether I suspend it or not."
He is due to be sentenced on 10 April.