Bedford gun battle sentence 'largest ever'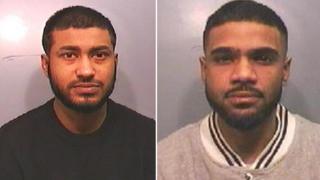 A police force says it has secured its "largest ever prison sentencing" for an investigation after nine men were jailed for a retaliation gun battle.
After police received reports of a woman being shot in the arm in a drive-by in Bedford on 8 July 2016, two gangs fired retaliation shots at each other at three properties in the town.
Police said the sentencing of a total of 170 years was "exceptional".
Two men were jailed on Thursday at Luton Crown Court for their part.
Mohammed Islam, 22, of no fixed abode, was sentenced to 16 years for conspiracy to cause grievous bodily harm (GBH) and possession of a shotgun.
Shozel Ahmed, of Foxglove Way, Bedford was jailed for 16 years for conspiracy to cause GBH, possession of a shotgun and affray.
Abdul Kadir, 38, of Salmon Lane, London, was jailed for 15 years in February for conspiracy to cause GBH, affray, possession of a shotgun and possession of a prohibited weapon.
In November six men from the Bedford area were jailed for between 15 and 22 years for a number of offences including conspiracy to cause grievous bodily harm with intent, for their part in the incident.
Det Ch Insp Will Hawkes, the senior investigating officer at Bedfordshire Police said: "This was two gangs in Bedford, it was all to do with drugs and drugs dealing."
"The combined sentences will be the biggest in Bedfordshire police history for one investigation," he said.
"That sends the message to criminals who would carry firearms and discharge them and behave in this way, we as an organisation will not tolerate this.
"I think the judge at the trial summed it up pretty well, when he actually likened it to Chicago in the 1920s."