Airlander 10: Hybrid Air Vehicles creates Bedford jobs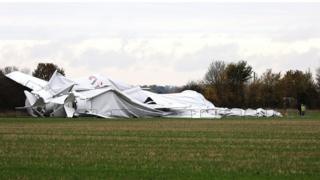 The company behind the world's longest aircraft, which collapsed to the ground in November, is to begin its next stage of development.
The prototype Airlander 10, a combination of a plane and an airship, detached from its moorings in light winds at Cardington Airfield.
Hybrid Air Vehicles is recruiting for nine new posts in areas such as engineering and flight sciences.
They will be based at its Bedford headquarters.
The new positions will be working on the design process which aims to get the Airlander 10 into commercial production.
A company spokesman said it will take all the "learning from our experience of designing, producing and flying the prototype aircraft and embed it in the detailed design of the aircraft that we will take to production".
Stephen McGlennan, chief executive officer of Hybrid Air Vehicles, said: "We're excited to be building our business and creating new jobs in Bedford.
"The design process for the first type certified Airlander 10 is ramping up as planned, and we need world class engineers and flight scientists to join the team."
The Airlander 10 prototype is currently housed at Hangar 2 at Cardington Airfield, just outside Bedford, but the company said it is looking for a new base in the medium and long-term.
The new location would need to be capable of building up to 10 aircraft a year and the company said that could be "anywhere".