Landscape gardener Humphry Repton celebrated at Woburn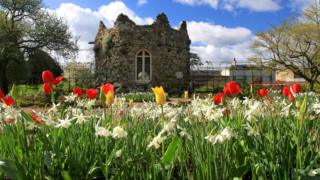 An exhibition to celebrate the person who invented the job title "landscape gardener" is to open.
The event, at Woburn Abbey, Bedfordshire, marks the bicentenary of the death of gardener Humphry Repton.
He produced more than 400 designs and schemes for gardens, including 28 acres in the ground of the stately home for the 6th Duke of Bedford in 1804.
Mr Repton (1752-1818) was seen as a "successor" to compatriot, Lancelot "Capability" Brown, said organisers.
Capability Brown (1716-1783) is the country's most famous landscape gardener, although the term was never applied to him in his lifetime.
Mr Repton's Red Book, which features documents of his proposed designs of the grounds, will be on display.
The book was discovered in the library several years ago by the current Duchess of Bedford. It has been used as inspiration for the renovation of the gardens, which have been taking place over the last 14 years.
Matthew Hirst, curator of the Woburn Abbey Collection, said: "Never before has the Red Book for Woburn been on public display, nor has there been an opportunity to show it alongside his other designs for the Duke of Bedford.
"This exhibition will give a fantastic insight into one of the nation's greatest gardening influences" Mr Hirst said.
Martin Towsey, estate gardens manager said the exhibition, called Humphry Repton: Art & Nature for the Duke of Bedford, "represents the hard work by the Woburn Abbey Gardens team to restore the gardens to their former glory".
A spokesman for Woburn Abbey said he was "recognised as the first person to invent and use the title landscape gardener".
Television gardening expert Alan Titchmarsh said the exhibition, which runs until October, celebrates the work of a man whose "prime object was to beautify the land surrounding a fine country house and to help house and garden work in harmony.
"Repton and his Red Books well deserve their place in the history of British landscape gardening," he added.