Milton Keynes Council to tackle homelessness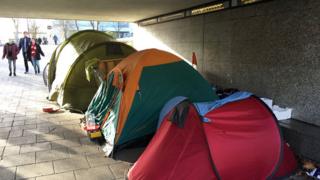 A council is hoping to reduce the number of rough sleepers on its streets through a new strategy.
Milton Keynes Council said tackling homelessness was a "priority" as numbers have increased in recent years.
There could be more than 100 homeless people in the town at any one time, the council said.
Every rough sleeper would be offered permanent accommodation with a care and support package under the system, which launches next month.
It will coincide with the introduction of the Homeless Reduction Act which will place legal duties on councils to provide homeless people access to help and support.
Labour councillor Nigel Long said he hopes to reduce the number of rough sleepers in the town to "a handful" by 2021.
The council has decided against introducing a public space protection order to combat anti-social behaviour and begging in the town.
Mr Long, who is responsible for Adult Social Care and Housing in Milton Keynes, said the strategy "marks a fundamental shift in how we respond to rough sleepers".
The Labour and Liberal Democrat-run council approved an extra £871,000 a year to improve resources in October 2017. The 2018/19 budget also includes an additional £400,000 a year to look at options to reduce "street homelessness".
The new strategy will include a "local connection criteria" to reduce the number of people going to Milton Keynes to sleep rough and gain access to services and accommodation.