Bedford prison inmate stamps on guard's head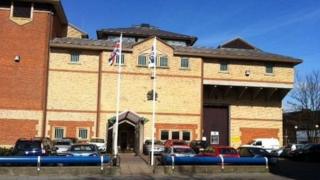 A prison officer had emergency surgery after an inmate punched him and stamped on his head, the Prison Officers Association (POA) said.
The officer, said to be in his 50s, is recovering in hospital following the incident at HMP Bedford on Saturday.
The union said he had surgery to relieve pressure on his brain.
"The prison is supporting the officer involved," a spokesman for the Ministry of Justice (MoJ) said.
The BBC understands the prison officer was attacked on one of the wings after 120 prisoner cells were unlocked.
Mark Fairhurst, chair of the POA, tweeted: "Horrendous weekend for staff resulting in one of our brothers needing an emergency operation to relieve pressure on the brain after being attacked and having his head stamped on.
"We need the tools to protect ourselves NOW! Immediate roll out of PAVA as a minimum."
PAVA works like a pepper spray to incapacitate without wounding.
"We do not tolerate any violence against our hardworking staff and will always push for the strongest punishment," the MoJ said.
The inmate, who was moved to a segregated unit, has since been transferred to another jail, according to the police.
Kevin Whiteside, chair of the Prison Independent Monitoring Board in Bedford, visited the jail on Monday.
He said he believed the prison had the right level of staffing and had made progress since riots at the jail in 2016.
"There will always be isolated incidents," he said.