M1 minibus crash: 'There is no life for me now'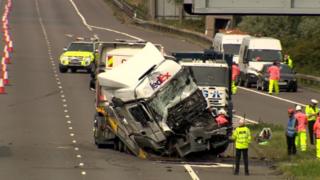 Two lorry drivers - one twice over the legal alcohol limit and the other on a hands-free call - will be sentenced for causing the deaths of eight people on the M1. As the trial concludes, the wife and children of the minibus driver killed in the crash speak of their grief.
On 25 August, Cyriac Joseph's evening started like many others had before. The 52-year-old driver was transporting a group of tourists in his minibus.
Business had been good and Mr Joseph, known as Benny to his friends, was looking to acquire another coach for ABC Travels, the company he had set up in 2013.
He lived in Sherwood, Nottingham, with his wife of 22 years, Ancy. The couple had two children; a son, Benson and a daughter, Benita.
"People looked up to him," said Benson, now a first-year university student.
"If they wanted to know something they would come to our house or they would call him up. I always saw my dad busy on the phone speaking to, advising someone, on any topic."
The good-humoured Mr Joseph, once the president of Nottingham Malayalee Cultural Association, called everyone his friend, according to 16-year-old Benita.
That all changed over the sweltering August Bank Holiday weekend.
Mr Joseph was taking a group of 11 Indian visitors from Nottingham to London to catch a coach to Disneyland Paris.
Shortly after 03:00 BST, he was on the M1 near Newport Pagnell when he came across the lorry of Ryszard Masierak, which was parked in the inside lane despite the hard shoulder being available.
Mr Joseph pulled up his minibus with his hazard lights on waiting to go around the lorry, in which it transpired Masierak was sleeping.
Behind him was David Wagstaff driving his Fed Ex lorry. Wagstaff had 250 yards - between nine and 11 seconds - to see the minibus. He did not.
Wagstaff's lorry ploughed into the minibus without braking or swerving, forcing it underneath Masierak's vehicle.
Eight of the 12 minibus occupants died.
Five men and two women from India, whose ages ranged from their mid 20s to their early 60s, were killed, along with Mr Joseph.
The four other people in the minibus - including a four-year-old girl left orphaned by the tragedy - spent weeks in hospital following the crash.
The court heard Wagstaff, who had been speaking to his friend on the phone at the time of the crash, admitted to officers at the scene: "The collision is my fault. I hit the back of all of them."
He later seemingly accepted his fate in hospital: "I know I'm going to prison, I have seen it happen enough."
Wagstaff was cleared of causing death by dangerous driving but admitted eight counts of causing death by careless driving.
Masierak, on the other hand, tried to fool the police by pretending not to be the driver. He was found sitting between the passenger and driver's seats.
A taxi driver, Ali Alias, was one of the first on the scene and could smell alcohol on the Polish national. When he asked Masierak if he was OK, he responded, "Can I go?".
Mathew John, a spokesman for the Joseph family, said they were upset by how AIM Logistics driver Masierak had conducted himself throughout the case.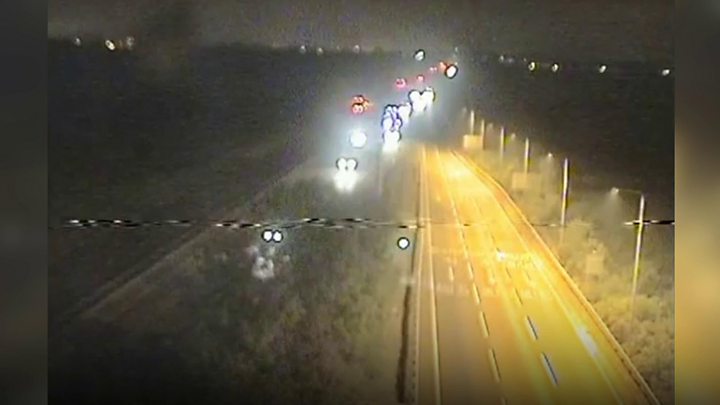 Mr John said: "Obviously these things could happen any time to anybody and sometimes when something happens, when something goes wrong, it's how you react to that.
"Myself and Ancy were in the court every day. He lied about everything, so we feel angry, and he doesn't feel any sense of guilt or think he has done anything wrong even though his action has killed eight people."
During the trial at Reading Crown Court, Masierak claimed he was a "careful driver", but the jury heard he had had a ticket for driving his lorry in the outside lane and for jumping a red light.
He also admitted consuming alcohol but said this was not a factor in the accident. He claimed the reason he stopped his lorry was because he was sweating, felt weak and had a headache - something he did not mention at the police station after the crash.
"Ryszard Masierak is a liar," said Oliver Saxby QC, when summing up for the prosecution.
"He drove as dangerously as is possible. He was drunk. He was driving erratically and his driving fell far below the standard [of lawful driving]."
After the verdicts, it was also revealed Masierak's professional driving licence had been revoked prior to the crash.
While Masierak did not have a clean record, Wagstaff did. He had been a professional driver for 28 years, a job that he loved, according to his wife Patricia.
Mrs Wagstaff told the court she first heard of the events at 03:15 when her "lovely, caring husband and a brilliant father" to their son, Peter, made a short call to tell her he had been involved in an accident and it was bad.
"He sounded really flustered and said he would not be home soon," she said.
Since the accident, Wagstaff, from Stoke-on-Trent, has been diagnosed with post-traumatic stress disorder. He told the court he has "vivid memories" of the bodies after the crash.
He said he "cannot remember anything at all" about the collision and said what happened was down to a "lack of concentration".
"Obviously there were a lot of other vehicles that managed to pass after Mr Masierak's lorry was there and that is because they paid attention on the road," said Mr John.
"We understand that he put his hands up straight away, but we still think that, if he had managed to stop the lorry, the seriousness of the collision would have been much less.
"So we feel sympathy for the family but we still feel angry."
The impact of the crash is still keenly felt in the Joseph household.
"I wish I had more time with him," said A-level student Benita.
"It was hard and it still is but I'm grateful for my friends' support, my school and everyone.
"And, I don't know how to put it into words, it's just you can never prepare for something like this but I'm trying my best - we all are. We're sticking together, we're going through this together."
For Ancy, the pain is almost too raw to bear.
"I loved him very much. He loved me. He was a very good husband - I lost everything," she said.
"It's a big tragedy, a big loss. I'm empty now. [I have] nothing in my brain also. Everything is gone.
"There is no life for me now. My life is finished."