M1 minibus crash driver has 'vivid memory of bodies'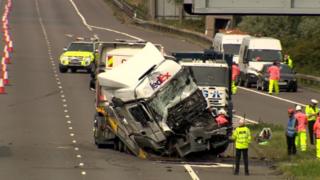 A lorry driver who ploughed into a minibus has "vivid and intrusive" memories of the aftermath of the crash which killed eight, a court heard.
Fed Ex driver David Wagstaff, 54, was on a hands-free call for about an hour when he crashed into the minibus on the M1 near Newport Pagnell in August.
The minibus was then forced under a stationary lorry in the inside lane.
Mr Wagstaff and another lorry driver, Ryszard Masierak, deny eight counts of causing death by dangerous driving.
Mr Wagstaff's lawyer Ben Gordon told Reading Crown Court that the driver's doctor said he has "vivid and intrusive memories, particularly from being at the side of the road" and about "the recovery of bodies".
During evidence on Wednesday, Mr Wagstaff, who has since been diagnosed with post-traumatic stress disorder said he "cannot remember anything at all" about the collision.
He has described what happened as a "lack of concentration".
The jury heard there was no evidence of Mr Wagstaff - who had been a HGV driver for 12 years with a clean licence prior to the collision - braking or trying to turn the wheel before the crash.
His lorry forced the minibus under the lorry of Mr Masierak, who the court has heard was twice the legal alcohol limit when he had stopped in the inside lane of the motorway, despite there being miles of hard shoulder available.
Mr Masierak said he stopped in the carriageway because he was sweating, felt weak and had a headache.
He admitted he had drunk alcohol in the hours before the crash but told the jury his drinking had nothing to do with the collision.
In summing up, prosecutor Oliver Saxby QC told the jury they will have to carry out an objective analysis of the manner of driving that day, and whether it had been dangerous rather than careless driving.
He said: "Driving is dangerous if in any way it falls far below the standard of a careful and competent driver and exposes other road users to the danger of physical harm."
Minibus driver Cyriac Joseph, who was waiting with his hazard lights on to go around the lorry, and seven of his passengers were killed in the crash.
Four others, including a four-year-old girl, were seriously injured.
They were on their way from Nottingham to London to catch a coach to Disneyland Paris on the Bank Holiday weekend.
Mr Masierak, of Barnards Close in Evesham, Worcestershire, and Mr Wagstaff, 54, of Derwent Street in Stoke-on-Trent, both also deny four charges of causing serious injury by dangerous driving, while Mr Masierak faces an additional charge of drink-driving.
The trial has been adjourned until Monday.