Pupils told to 'look Chinese' for class photo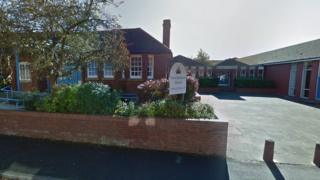 A primary school has apologised after a class of six and seven-year-olds was reportedly told to "look Chinese" by pulling back their eyes.
The children at New Bradwell School, in Milton Keynes, were posing for a photo as part of a project on China.
It provoked outrage from some parents who branded the photo racist, as reported by the Milton Keynes Citizen.
Head teacher Phil Webster said: "The school would like to apologise if we caused any offence".
The paper reported that the class had dressed in Chinese-style clothes for the photo, which was then pinned up on the classroom window.
It quoted one parent as saying: "These children will now think it's OK to do this, when it is clearly not.
"At best it's insensitive and at worst it's racism," she added.
Another parent told the BBC the situation had been "totally blown out of proportion".
"I think it's good for them to learn about different cultures," she said.
"I don't think there's anything wrong with the way with that it's been taught,"
Head teacher Mr Webster said an investigation had been launched.
"After our internal investigation has been completed will look to see if any changes need to be made with the school's procedures and policies," he said.