'Ambitious' Stevenage town centre redevelopment launched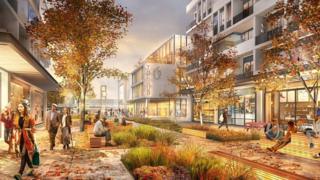 A £350m redevelopment of Stevenage town centre will bring it "into the 21st Century", councillors have said.
The project includes new shops, bars, restaurants, 600 homes, a park and a council building.
The development, on the western side of the town centre, will be built where car parks, the bus station and the Plaza are currently located.
It will take up to eight years to complete and building work is expected to begin in 2019.
Stevenage Borough Council said it was an "exciting and ambitious regeneration".
Sharon Taylor, Labour leader of the council, said: "People want to live in the centre of towns and it means they don't have to have a car.
"So it's good for the economy and helps get that 24-hour economy going in our town centre."
The plans were officially unveiled at a launch event on Tuesday.
Construction company Mace was chosen to carry out the work, close to the £50m Park Place development of flats and homes, which is nearing completion.
Andrew Percival, chairman of the Stevenage First consortium, which oversaw Stevenage town centre's regeneration plan, said it would create "a modern, vibrant central area where people can live, work and play".
A planning application is expected to be submitted within a year.
Stevenage was designated the UK's first New Town in 1946 and was devised as a radical solution to London's post-war housing crisis.
Speaking about the town's 70th anniversary, Jo Ward, curator of Stevenage Museum, said: "People judge the town on the town centre.
"It was the country's first pedestrianised town centre, and it was revolutionary, but it has dated."