Dunstable car attack victim of Bradley Vine may 'never recover'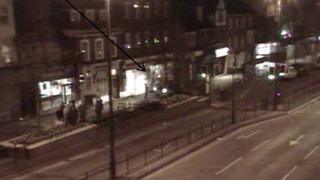 A man who was hit by a car on a pavement, in an apparent case of mistaken identity, may never fully recover, a senior police officer said.
Bradley Vine drove at an "unfortunate" 50-year-old man outside a Dunstable kebab shop in an "unprovoked" attack.
Ahead of a TV programme, Det Sgt Simon Oldfield said the victim had multiple pelvic fractures and head injuries.
Vine, 22, of Milton Keynes, was jailed for seven years after pleading guilty to grievous bodily harm with intent.
Det Sgt Oldfield said the incident began after "two groups were having a bit of a scuffle outside a pub" in the early hours of Saturday, 8 April.
Vine had been seen by officers with blood on him after the scuffle but refused to speak to them about what had happened.
'Targeted'
"No complaints were made [to police officers] and everyone went on their merry way," Det Sgt Oldfield said.
"Then literally out of nowhere a car clearly targeted a member of the public - an unfortunate man outside a kebab shop on Dunstable High Street."
Vine's car can be seen on CCTV mounting the pavement and hitting the victim, who had not been part of the earlier scuffle, at 04:40 GMT.
Det Sgt Oldfield said he had "no doubt" Vine thought the man was involved in the altercation at the pub.
The case has been featured in Channel 4 documentary series 24 Hours in Police Custody, to be shown on Monday.
After the previous episode, which showcased a Bedfordshire Police detective being arrested for blackmail, the Police Federation saw an increase in officers seeking help with debt.