Luton teacher banned for telling pupil he was 'falling deeply in love'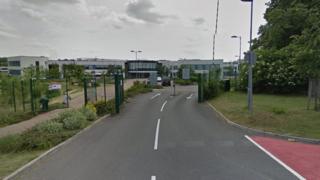 A teacher who said he was "falling deeply in love" with a pupil has been banned from the profession.
Emmanuel Egbe, 58, was a teacher at Challney High School for Girls in Luton when he gave the girl his phone number and exchanged WhatsApp messages.
Mr Egbe then tried to conceal his conduct by telling the teenage pupil to "delete all messages on your phone".
He was found guilty of unacceptable professional conduct and conduct that may bring teaching into disrepute.
Mr Egbe had denied the messages were sexual, saying his relationship with the girl was like a "father and daughter", that his conduct may have been as a result of a possible medical episode and that his words were taken out of context.
He said that his expression of love was "actually for the pupil's commitment to her studies".
'Disgusting messages'
But a teacher misconduct panel said the totality and tone of the messages, several of which were sent late at night or on weekends, and the attempt to meet her alone, were "romantic and sexual in nature".
The pupil's sister confronted Mr Egbe about the messages and her aunt raised concerns with the school, leading to his suspension in July 2016.
The sister sent the teacher a message saying "how could you send [the girl] such disgusting messages?".
This led him to tell the pupil "you must delete all messages on your phone. Your cousin seems to have said something about me to her friends and have been looking and giggling whenever I pass them. I feel that giving you my number was a big, big mistake".
He denied he was dishonest in trying to conceal his contact and that he "did not want anyone to see the messages and get the wrong idea, or misunderstand what was going on", but the panel upheld this allegation.
Mr Egbe can apply to return to teaching in five years, when a panel will need to decide if he can return to the profession.