M1 crash deaths: Lorry driver 'twice drink-drive limit'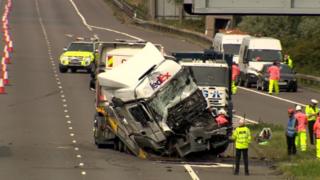 A lorry driver was twice the drink-drive limit and another was on a hands-free call in cruise control when they were involved in a motorway crash which killed eight people, a court has heard.
The two lorries collided with a minibus on the M1 near Newport Pagnell, Buckinghamshire, on 26 August.
Ryszard Masierak, 32, and David Wagstaff, 54, face eight counts of causing death by dangerous driving.
The lorry drivers are on trial at Reading Crown Court.
The two men are also charged with four counts of causing serious injury by dangerous driving, and Mr Masierak faces an additional charge of drink-driving.
Prosecutor Oliver Saxby told the court the crash was "entirely avoidable".
The jury heard Polish national Mr Masierak had stopped in lane one at about 02:57 BST, despite there being miles of hard shoulder available.
Minibus driver Cyriac Joseph was waiting with his hazard lights on to go around the lorry when Mr Wagstaff ploughed into the back of the van forcing it into and under Mr Masierak's vehicle.
Mr Joseph and seven of his passengers were killed in the crash on the Bank Holiday weekend.
They were on their way to London to catch a coach to Disneyland Paris.
CCTV footage of the minutes leading up to the collision and of the crash were shown to the jury.
Mr Saxby said the sound had been removed to spare them the "acute horror of what occurred".
He added it was important for the jury to see the footage so they could evaluate the standard of driving of both defendants.
Mr Saxby said the "catastrophic and tragic" collision was "caused by the driving of these two defendants".
"In Mr Masierak's case, under the influence of alcohol, parking up in the slowlane of the M1, an act as flagrant as it was dangerous.
"And in Mr Wagstaff's case, on a hands-free call completely failing to notice what was ahead of him, inattention on a gross scale."
The court heard Mr Wagstaff did not brake or decelerate before ploughing into Mr Joseph's minibus.
Mr Masierak, of Barnards Close in Evesham, Worcestershire, and Mr Wagstaff, of Derwent Street in Stoke-on-Trent, both deny all charges against them.
The trial continues.