Nascot Lawn: Parents win latest stage of legal battle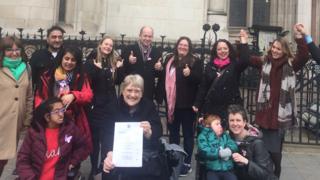 Parents whose children attend a respite centre for disabled children have won their latest legal challenge to keep it open.
Herts Valleys Clinical Commissioning Group (CCG) said it would cease funding Nascot Lawn Respite Services in Watford due to "financial challenges".
The High Court has ruled the CCG must now consult with Hertfordshire County Council over the proposed closure.
Funding is now in place until August.
Mr Justice Mostyn said: "If no agreement is reached HCC can refer the controversy to the Secretary of State who has far-reaching powers to make a merits-based decision on the issue".
Alex Rook, from Irwin Mitchell, the legal firm representing the families, said: "We have always argued on their behalf that the CCG and the local authority should work together to decide how they can continue to operate this vital community service and are delighted that the court has today endorsed this view.
"We only hope that this time the CCG co-operates with the county council to ensure that Nascot Lawn stays open," he said.
Dr Nicolas Small, Chairman of Herts Valleys CCG said the decision they made in November to stop funding Nascot Lawn "was one of the hardest we have had to make".
"We did this in the context of a very challenging financial environment.
"What we now need to do, is to take time over the next six weeks to formally consult with our colleagues at the council in the format that the court has prescribed," he said.
A spokeswoman for Hertfordshire County Council said: "We note and agree with the judgement handed down today.
"We hope that we can now proceed to work in partnership to develop an integrated offer which will ensure that these children and their families receive the respite provision that they need."