Aylesbury policeman attempted murder: Two men charged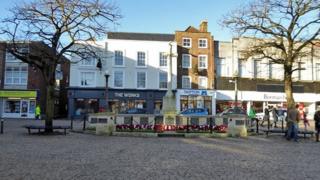 Two further men have been charged in connection with the attempted murder of a police officer who was hit by a car.
Plain clothes officer John Gavin was on duty in Market Square, Aylesbury, on Tuesday when he was hit by a red Vauxhall Astra, which left the scene.
Corey Allard, 20, has been charged with attempted murder and dangerous driving and was remanded in custody on Friday.
Police have now charged George Green, 23, and Omar Burke, 25, both of High Wycombe, with related offences.
They are aggravated vehicle taking, assisting an offender and possession of cannabis.
Both men are of no fixed address and have been remanded to appear at High Wycombe Magistrates' Court on Monday.
Mr Gavin, 30, was taken to hospital with head injuries and has since been discharged.