Dunstable to get £6.3m to regenerate town centre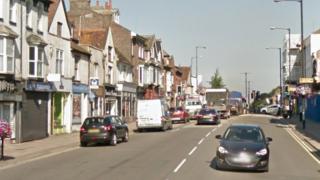 A town once dubbed "a cemetery" by the self-styled Queen of Shops Mary Portas is to get an injection of government money.
More than £6m will be pumped into revitalising the centre of Dunstable - and creating 400 new homes.
The cash was announced by the Minister of Housing, Communities and Local Government, Sajid Javid, on Thursday.
Dunstable's MP, Andrew Selous, described it as a "vote of confidence" in the Bedfordshire town.
Live updates from Beds, Herts and Bucks
The money comes from the government's Housing Infrastructure Fund, an £866m investment in local housing projects and infrastructure.
Central Bedfordshire was one of 133 councils to successfully bid for a share of the fund.
Cllr Nigel Young said the plan now is "to encourage the public to spend more time in Dunstable High Street".
"We've been talking to local people about the changes they want to see in the high street and town centre," he said.
"We want to give Dunstable back the feel of a market town which caters to the needs of both locals and visitors."
Restore character
Dunstable hit the spotlight in 2009 after TV retail expert Mary Portas decried the high number of boarded-up shops.
A masterplan was developed in 2011, to "unlock the town's transport challenges, attract employment and prosperity and breathe new life into Dunstable, restoring its character as a traditional market town."
The high street has since undergone significant retail redevelopment, as well as the completion of the A5:M1 link road.
A guided busway, connecting Dunstable with Luton and Luton airport, opened in September 2013 at a cost of £91m.
Mr Selous, MP for South West Bedfordshire, said: "It is great to see this commitment to Dunstable's future.
"I am sure this vote of confidence will drive further positive growth in our town and the local area."