Closure of slide at Rushmere County Park 'ridiculous'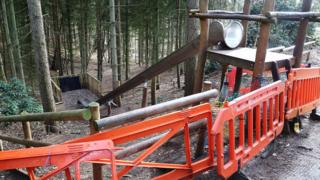 Parents have said the decision to close a slide at a country park, after a child was hurt on it, is "ridiculous".
The slide at Rushmere Country Park, in Heath and Reach, Bedfordshire, is shut after the Greensand Trust which manages it had to pay £5,000 in damages.
The charity said: "The future of the slide is currently under review due to risks posted by potential public liability claims."
User Debbie Gibson said the slide was "safer than the woods" it is in.
Last month, Greensand was ordered to pay the damages by Milton Keynes magistrates after a child, under the age of five, was injured in 2014.
New signage
Writing on the park's Facebook page, Jo Grant said: "The slide is definitely a highlight of our visit.
"Kids get hurt (and grown ups). That is life. It doesn't always have to be someone's fault.
"Will you have to stop the kids climbing the trees due to kids falling and breaking bones?"
Mother Gemma Hill said: "I would not let my three-year-old go on it as it is too big, but my seven-year-old is sensible enough and has been on this slide many times without getting hurt.
"It is like anything - if it is not used properly things are going to go wrong."
Debbie Gibson said: "Ridiculous. When used correctly and under supervision that slide is safer than the woods it is situated in.
"Whoever has put a 'claim or complaint' in....shame on you."
The Greensand Trust apologised for any inconvenience.
A spokeswoman said: "This equipment is managed according to industry guidelines and subject to frequent inspections by approved play inspectors.
"We did make our signage more prescriptive in 2015 as it became apparent accompanying adults were allowing very young children to use the slide, when a more suitable slide is available for under 5s."
A decision on the slide's future is expected in a few weeks' time.