Marston's announces job losses in Bedford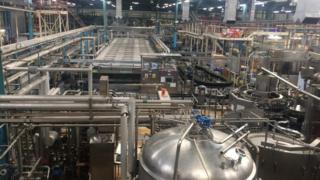 A company that bought a brewery in a £55m deal has said up to 45 jobs are to disappear there.
Marston's, which took over the Havelock Street brewery in Bedford from Charles Wells in May, announced it is moving the canning and bottling line to Burton upon Trent.
The business said it will invest £8m in a "new state-of-the-art line" at their Staffordshire brewery.
Some 150 people work at the Bedford site and 35-45 jobs are under threat.
Richard Westwood, Marston's managing director said the newly re-branded Eagle Brewery was "100% safe, and we will continue to invest in it".
"Over the next two to three years we may see more jobs here than we currently have," he said.
Mr Westwood said the canning and bottling lines in Bedford will close because they are no longer "fit for purpose".
"We have spent nine months looking at this, because one of the original intentions was to see if we could refurbish the line, but that is not going to be possible," he said.
Those whose jobs are under threat will be offered voluntary redundancy or "other opportunities in the business", said Mr Westwood, including being able to apply for jobs at the line at the Burton brewery.
He said a consultation process was under way.
Marston's currently operates five breweries nationwide, as well as 1,500 pub franchises.