HMP Woodhill officer not guilty over noose inmate death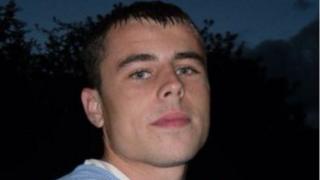 A prison officer charged with gross negligence manslaughter over the death of an inmate has been found not guilty.
Ryan Harvey, 23, was found hanged in his cell at HMP Woodhill in Milton Keynes, Buckinghamshire on 3 May 2015. He died five days later in hospital.
During the trial at the Old Bailey, it was alleged prison officer Joseph Travers, 55, failed to remove a noose from Mr Harvey's cell.
The officer said he did not know Mr Harvey had a noose.
The jury, which acquitted Mr Travers in 46 minutes, gave the judge a statement which was read out in court.
"We have reached a verdict of not guilty," it said.
"We would like to record our view that the case has thrown up a number of appalling systemic failures to provide frontline staff with sufficient information as to the inmate's background."