Stewartby Brickworks: Demolition of chimneys approved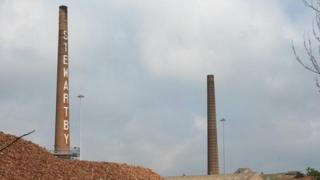 Demolition of the former chimneys of the Stewartby Brickworks in Bedfordshire has been backed by councillors.
Owner Hanson wants to build up to 4,000 homes on the site. It says the four chimneys are a "risk to public safety".
The decision comes despite Historic England saying there was no reason why they should be completely demolished.
Bedford Borough Council backed the move subject to a replacement chimney with "Stewartby" down the side being built.
The structures are a symbol of the brickwork industry in Bedfordshire and date back to the 1930s. Four of the 32 original chimneys remain on the site, standing up to 70m (230ft) tall.
At its peak in 1936, Stewartby Brickworks produced 500 million bricks a year. The site closed in 2008 as it could not achieve emission standards.
Hanson said "complete demolition" of the chimneys was necessary due to the "safety hazards related to the potential collapse" of the structures.
Network Rail has also raised concerns about the chimneys' proximity to the railway line.
It has introduced a measure where the line is closed when wind speeds of 50mph and above are anticipated, due to the chimneys failing tests set by the Eurocode for resisting wind loads.
However, Historic England opposed the idea, and Stewartby Parish Council believed they should be "protected for the heritage of the whole of Bedfordshire".
In a statement, Bedford Borough Council said the planning committee "resolved to grant consent subject to a legal agreement to provide a new single chimney on the site with 'Stewartby' written down it to replicate the existing chimney, alongside a heritage interpretation scheme to ensure the history of this site is not lost.
"There are no planning applications for housing on this site at this time."