Welwyn Garden City stabbing: Jamil Sarki's family pays tribute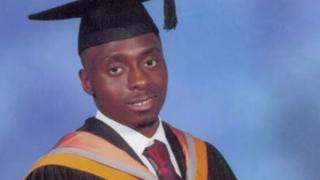 A family has paid tribute to an engineering graduate who was stabbed to death in a Hertfordshire town.
Jamil Sarki, 23, from London, died of his injuries on Ludwick Way, Welwyn Garden City, at 22:20 GMT on 18 January.
In a statement issued through Hertfordshire Police, Mr Sarki's family described him as "the sunshine of our lives" and his death as "such a waste".
Three men - all from Welwyn Garden City - have been charged with murder.
Mr Sarki was stabbed in the area of Bassingburn Walk and Ethelred Close and pronounced dead in nearby Ludwick Way, police said.
He leaves behind a mother and her partner, his father and a younger sister.
They said: "Jamil was the sunshine of our lives. He brought us so much joy and we're absolutely devastated that he has been taken from us.
"He was such a good, family-oriented boy and always helped his mum. He worked hard for his degree and we were all delighted with his achievement."
The statement added that Mr Sarki had achieved a mechanical engineering degree from De Montfort University in Leicester and his family "could not have been prouder".
"Jamil was quiet and quite shy - he would do anything for anyone. We cannot understand how a boy of such potential is dead. It is such a waste.
"We aren't sure how we will move on without him, but we will keep his memory alive."
Daniel Frazer, 29, of Bassingburn Walk in Welwyn Garden City, has been charged with joint enterprise murder and will appear in court later.
Keith Coventry, 34, and Vinnie Bradshaw, 19, also of Bassingburn Walk, have been charged with murder. They will appear in court next month.
An 18-year-old man from the town who was arrested on suspicion of murder has been released on bail.