Paul Young's wife Stacey dies from cancer aged 52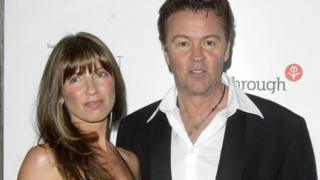 The wife of pop star Paul Young has died at the age of 52 after suffering from brain cancer for two years.
Stacey Young was with her husband and four children when she died on Friday at the family's home in Hertfordshire.
The singer said on Twitter: "Sadly Stacey has passed away today after a two year fight with brain cancer."
Young met the Essex-born former model while making a video for his second single in 1983 and they married four years later.
In his tweet Young added: "She died peacefully at our home surrounded by family, friends and her four children: Levi, Layla, Grady and Jude."
Following the announcement of his wife's death, Young wrote that his Twitter feed had been "jamming with all your lovely messages... I appreciate every one".
Fellow pop stars Sir Rod Stewart and Jason Donovan sent their condolences, with Sir Rod saying: "My dear @PaulYoungParlez, My heart goes out to you for your loss.
"Stacey was warm, wonderful and always got the joke. Much love - Rod."
Young, originally from Luton, and his wife had three children together, but split up in 2006 before reuniting three years later.
While they were separated, Stacey gave birth to her fourth child Jude, whose father is Israeli businessman Ilan Slazenger.
The singer is due to set off on a 20-date UK tour next month.