North Herts Museum entrance row: New offer made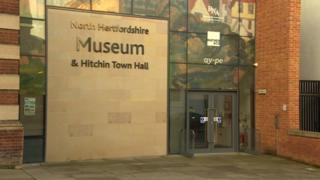 A solution could soon be found to a five-year wrangle that has prevented the public from entering a new museum.
North Herts Museum was due to open in 2015 but did not, due to a dispute over the sale to North Herts District Council (NHDC) of land at its entrance.
The land at 14/15 Brand Street in Hitchin is owned by Hitchin Town Hall Ltd (HTHL) which said it may now allow access while negotiations continued.
The council said it "hadn't received the offer directly".
However, we are very happy to discuss it at our meeting next Friday [2 February]," it added.
In 2010 (NHDC) decided to convert the Hitchin Town Hall site, which it owns, and adjacent land at 14 Brand Street into a new museum while retaining the town hall for use as a venue.
In 2013 it decided to include 15 Brand Street in the project, but since then planning and legal issues have prevented it from buying the land for use as the main entrance, and negotiations are continuing.
The museum is partly on council land and partly on 14/15 Brand Street so is only open for guided tours, with public access through council property.
Conservative council leader Lynda Needham said: "We would like to be able to access it in accordance with the planning permission we had originally."
Stephen Pike, chairman of HTHL, said: "It is in everybody's interest that the town hall is open fully... if needs be I'm perfectly prepared to offer access of this section of the building for public access and disabled access."
The council said its "primary aim" was to negotiate an agreement, but if not, other options would be pursued, including modifying the building or exercising compulsory purchase powers.