Police probe threats made to EDL founder Tommy Robinson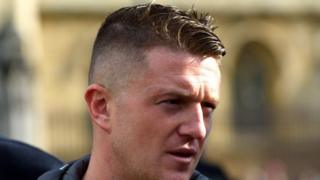 Threats made to the founder of a far-right group are being investigated by police.
Tommy Robinson, the former leader of the English Defence League (EDL), said he had made numerous complaints about death threats to his family but "nothing ever gets done".
Bedfordshire Police said it was aware of the threats and they were "being investigated".
Mr Robinson, whose real name is Stephen Yaxley-Lennon, left the EDL in 2013.
Speaking on Facebook, he said: "Do you know how many times I have gone into Bedford police station, I have gone into Kempston police station, to say here are comments to kill my family but nothing ever gets done.
"I have three kids, an innocent wife, my family are scared."
He added that an address had been released on the internet claiming to be where he lived but the information was wrong and the current occupants were now "terrified".
A police spokeswoman said: "An address was posted online that was not his [Mr Yaxley-Lennon's] and safeguarding measures have been put in place in relation to that incident."