Denham studios reopen as 'faithfully restored' housing complex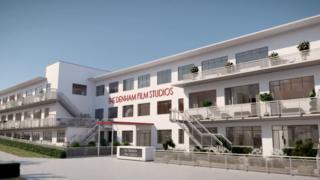 A British film studio where some of the biggest Hollywood movies were made has been transformed into a £120m housing development.
The Grade II listed Denham Studios in Buckinghamshire operated from 1936 to 2014 but had fallen into disrepair.
In its heyday, the complex housed the production teams of Stephen Spielberg, Stanley Kubrick and Ridley Scott.
Planning permission was also granted to name buildings and surrounding streets after giants of the big screen.
Read more Beds, Herts and Bucks stories
The original studios were built near the village of Denham in 1936 and contained recording space, editing and treatment laboratories, as well as a cinema where directors and producers reviewed films before their release.
It was acquired in 1939 by the Rank Organisation, which also owned the rival Pinewood Studios at Iver Heath.
Pictures shot there include Brief Encounter, The Great Escape, Eyes Wide Shut, and Clash of the Titans as well as the three Superman movies, Alien, and several Bond films.
Bob Weston, of Weston Homes, said the development was a "slice of cinematic history, faithfully restored".
Alex Lawrie, the developer's site historian, said residents would be able to "live in their own movie".
Streets around the development have been renamed to include Albert Broccoli Road, Stanley Kubrick Road and Noel Coward Avenue.
Mr Kubrick's daughter Katharina told the BBC she "couldn't be prouder" of the restoration.
"Denham studios were two words that were in our house all the time because whenever Stanley was filming, the film that he shot would have to be processed at the laboratories because there was nowhere else," she said.
"It was synonymous with filmmaking in this country. My father worked in the UK because he loved the crews here, he loved the country - and he made it his home.
"The Denham labs were a complete necessity if you wanted to make movies in this country."