Bedford walk-in centre extension 'a sticking plaster'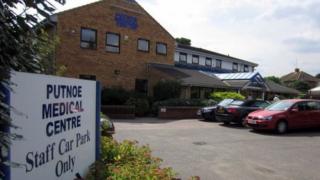 A "much-valued" walk-in health centre due to close in March has had its contract extended.
Putnoe Medical Centre in Bedford will continue to operate until 30 September.
Bedfordshire Clinical Commissioning Group (CCG) agreed to extend the contract while a new urgent treatment centre is set up in Bedford.
Labour councillor Anthony Forth called the extension a "sticking plaster" but the CCG said it was "committed" to ensuring patients could access care.
The centre provides urgent care to about 35,000 patients a year.
'A bad thing'
Mr Forth, adult services portfolio holder at Bedford Borough Council, said: "Six months seems extremely optimistic, given they don't know what form this new service is going to take.
"They've also cut the opening hours, which is obviously a bad thing."
The walk-in centre is currently open 08:00 to 18:30 seven days a week, but from 1 April, the closing time will come forward to 18:00 in the week and to 17:00 on Saturday and Sunday.
Dr Alvin Low, clinical chair at Bedfordshire CCG, said: "We are committed to making sure patients in Bedford can access the care they need at the right time and in the right place.
"Over the coming months, we will engage with local communities to provide information about the new service and ensure that patients' views are considered in all decisions."