Barton Rovers FC 'could go out of business' if robbed again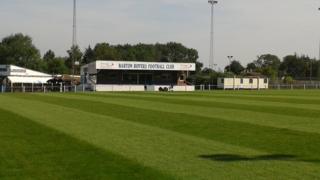 A football club has said it could be put out of business if it is robbed again.
Barton Rovers FC, in Barton-le-Clay, Bedfordshire, had thousands of pounds taken in two separate raids.
The first raid happened on 19 July when three masked men threatened staff at gunpoint.
In the second raid, on 3 December, three men, armed with knives, forced staff to open the club and stole the contents of the safe.
Head barman Daniel Whiley, son of club chairman Darren Whiley, said the club had increased security and "upped everything we can with the budget available".
He said: "For a small club like us, it really hit us.
"We are still in the process of trying to claim for the insurance; we are making progress slowly. In the short term we are getting by.
"If it would happen again it would probably put us out of business."
A Bedfordshire Police spokeswoman said the July raid had been "filed due to evidential difficulties" and the December raid had been "filed because suspects could not be identified".
The club play in the Evo-Stik South, the eighth tier of the football pyramid.