Woman 'locked' in Luton police station for two hours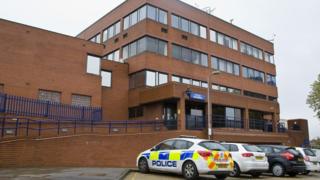 A disabled woman has told how she found herself locked inside a police station for two hours waiting to speak to an officer to report an incident.
Patience Tagarira went to Luton police station in May after a cyclist fell and became wedged under her car.
As reported in the Luton News, she was waiting for an officer from about 19:30 and the station was locked at 20:00.
A passing PC finally released Mrs Tagarira at 22:00, she said. Bedfordshire Police has apologised.
Mrs Tagarira said while she was locked in the reception, she was "desperate for the toilet" and was "feeling sick" as she was unable to take her medication for a renal problem.
'Communication breakdown'
She has now referred the incident to the Independent Police Complaints Commission (IPCC) after being left unhappy with the official response from the police.
In a letter to her solicitor, the force said the "complaint was comprehensively investigated".
"The conclusion was there was no misconduct for the station officer and no further action in relation to this matter," she said.
Bedfordshire Police told the BBC: "We have reviewed the case put forward regarding this incident and an apology has been provided to the claimant regarding the breakdown in communication.
"Claims are reviewed to ensure the force identifies any organisational learning and where necessary we will implement changes to policies and procedures."
Mrs Tagarira is now waiting for a response from the IPCC.
The IPCC told the BBC it was dealing with the complaint.