Police dog stabbing: MP Oliver Heald airs Finn's Law in Parliament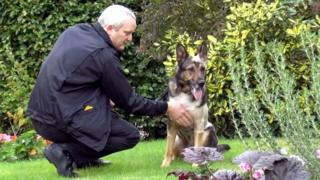 Police dogs and horses deserve to be treated as "key members of the law enforcement team", an MP said as he introduced "Finn's law" to the Commons.
Former minister Sir Oliver Heald said new legislation was needed to make it an offence to attack service animals.
Hertfordshire PC Dave Wardell's police dog Finn needed surgery after being stabbed with a 10-inch knife while chasing a suspect in October 2016.
Sir Oliver said there was a "gap in the law".
Attackers are prosecuted under current rules for causing criminal damage.
Campaigners want police dogs and horses to be given the same status as injured officers.
"To accept such attacks on animals are just damage to property is, I think, distasteful," Sir Oliver said.
"We are lucky in Britain to have fantastic and brave service animals like Finn, but these animals should not be treated as equipment, but as what they really are, key members of the law enforcement team and providers of essential services."
Finn and PC Wardell survived their attack and returned to work 11 weeks later.
But Finn's injuries were not considered "serious enough" to warrant a separate penalty for the attacker in court, Sir Oliver said.
His Service Animals (Offence) Bill, brought in via a 10-minute rule motion, would "create a clear offence of attacking a service animal".
It would be an either-way offence with a maximum of five years imprisonment.
Last year, policing minister Brandon Lewis said he had written to his ministerial colleagues at the Ministry of Justice and the Department of Environment, Food and Rural Affairs to "explore whether there is more that we can do in law to offer a more appropriate protection to working animals".
More than 127,000 people signed a petition calling for the change.
The bill was listed for a second reading on 23 February 2018.