Police probe continues into death of racing cyclist Ray Dare, 91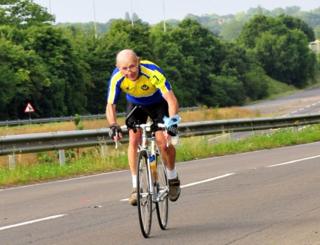 Police are continuing their inquiry into the death of a 91-year-old cyclist who was killed while trying to set a national record, a coroner has said.
Ray Dare, described as a "genuine legend" of cycling, died in a crash with a van on the A41 Aston Clinton bypass, near Aylesbury, on 19 July.
Buckinghamshire's senior coroner Crispin Butler said police investigations were "ongoing".
He adjourned the hearing for another pre-inquest review on 16 January.
Mr Butler said: "There is no indication that anyone has been charged with a homicidal offence and there has been no request to suspend the coronial investigations."
Mr Dare's family did not attend the short hearing in Beaconsfield.
The victim, of Leatherhead in Surrey, was married and a retired telecoms engineer.
He had been a member of the Kingston Phoenix Road Club in Surrey for 65 years.
'Amazing cyclist'
It said at the time of his death that Mr Dare was attempting to ride 10 miles in under 29 minutes and 43 seconds.
The club also expressed its "huge sadness and shock" and described Mr Dare as a "genuine legend".
His friend John Beer said in July: "Ray died doing what he loved.
"He was hit on a straight flat open piece of road, he had two miles to go.
"We should all remember him for the truly amazing cyclist and husband and father he was."
His specialist event was time trialling, where a cyclist rides alone between two time keepers against the watch.
Mr Dare held eight national Veterans Time Trials Association records including at the age of 88, riding 50 miles (80km) in 2:52:01.
When he was 13, Mr Dare rode 165 miles (266km) from London to visit an aunt in Caerphilly, Wales, where he had been born.