Murdered Suhaib Mohammed 'collateral damage' to drug dealers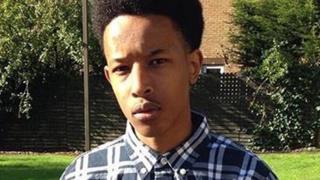 A teenager who was murdered in the UK after moving from Somalia was "just collateral damage" to a drug dealing gang, a senior police officer said.
Suhaib Mohammed, 19, was shot through an open window at a house in Milton Keynes, in September 2016.
Two men were jailed for life in March after being convicted of his murder.
Speaking ahead of a TV documentary about the case, Det Ch Insp Mike Lynch said Mr Mohammed had been "groomed into a life he knew nothing about".
"This was the tragic case of a 19-year-old brought from Somalia to the UK by his family to make a better life for themselves but, ultimately, he was vulnerable," he said.
"He was was just collateral damage in the world of organised crime and became wrapped up in something he had no control over."
Mohamed Noor, 33, and Albert Prempeh, 35, both of Milton Keynes, were sentenced to a minimum of 30 years, following a trial at Luton Crown Court.
Noor, of Radworthy, fired the revolver after Prempeh, from Langland Road, had led him to the house in Osprey Close, Eagleston.
The court heard the pair went to the address to exact revenge on a man known as Hypes, who had robbed Noor earlier and believed to have been involved in a £4,000 bookmaker robbery the previous day.
Prempeh said he had been forced at gunpoint by Noor to go to the house, an accusation Noor denied.
Mr Lynch said: "That was the difficulty of the case - it seemed straightforward.
"But we looked at CCTV and found footage of Prempeh leading Noor to the scene and certainly not under duress".
The case has been featured in Channel 4 documentary Catching a Killer, to be shown on Thursday, 7 December.
Mr Lynch - who has since retired from policing - said he took part in the programme to show how "emotionally challenging" cases like this are for police staff.
"They have to support families who have lost someone but they have to be impartial and seek the truth, which sometimes causes tension," he said.
"And there is always a sense of a hollow victory in that no sentence can ever bring someone back."