Nascot Lawn: Herts Valleys CCG withdraws respite centre funds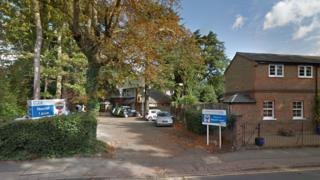 A respite centre for disabled children is to close in six months after health bosses withdrew funding unless a council agreed to contribute.
Herts Valleys Clinical Commissioning Group (CCG) said it would cease funding for Nascot Lawn Respite Services in Watford from May 2018.
But it said it would provide £100,000 a year until March 2019 if Hertfordshire County Council agreed to joint funding.
The council said it was wrong to blame the authority for the closure.
It currently funds overnight short breaks for children in three other centres around Hertfordshire and said it would continue this.
'Not our fault'
The CCG's finance and performance committee said it discussed all the options for future funding.
Chief executive Kathryn Magson said: "This is now a matter for the council and as the statutory provider they must now take a clear lead in working with families to determine future provision."
Councillor Teresa Heritage, who is responsible for children's services, said: "It's not our fault that building is closing down, it was the CCG's decision; they have chosen to withdraw funding for it."
The Nascot Lawn unit is currently the county's only respite centre equipped to look after disabled children with very complex health needs and Ms Heritage said in order to take some of them, building work would take place at the nearest alternative centre, West Hyde.
"We have to provide them with respite care... it's our statutory responsibility, so we will find the money and we will do as much as we can," she said.
Parent Satnam Kaur said: "We feel like we're caught in a war between the CCG and Herts County Council - the two of them can't decide and in the process, they're failing our families and our children."